The Azerbaijani President, Ilham Aliyev, signed a decree on measures for construction and repair of motor ways. The decree notes that Azerbaijan takes wide-ranging measures aimed at speeding-up social-economic development of the country, the integral part of which is restoration, renovation and development of road infrastructure.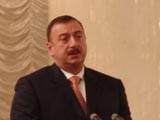 "State of motor ways of local significance and motor ways on the balance of local executive powers do not meet dynamic social-economic development and needs of population due to lack of road-building machinery and other devices are not satisfied on a necessary level," reads the decree.
The Cabinet of Ministers was charged to develope and submit a draft state program on renovation and development of motor ways of the country for 2006-2015, ensuring of allocation of 70 billion manats for construction. The cabinet is also responsible for acquiring of necessary objects and road-building machinery, handing them to the appropriate bodies, provision of annual inclusion of expenditures required in this respect into the public budget.
The Transport Ministry was charged to submit and unify the list of the appropriate objects and devices, as well as transfer them to appropriate bodies along with the Cabinet of Ministers.
APA