The last session of the trainings on the European Court (EC) for lawyers working in the human rights field in Azerbaijan started in Baku today with the support of the Helsinki Committee, "Interrights" Organization and Law Enlightenment Society (LES).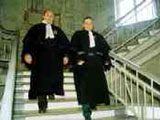 APA was informed about it from LES. The trainings to last from August 22 to 27 are realized with the support of the Open Society Institute – Aid Fund.
We should note that different clauses of the European Convention were investigated in each of 4 previous sessions of the trainings which encircle the 1 year period and where about 20 lawyers working in the field of human rights protection were attracted.
Olga Chernishova, Grigoriy Dikov from the secretariat of EC, Yonko Grozev from the Bulgaria Helsinki Committee, experts of the "Interrights" organization Vesselina Vondova, Ivana Radachich, members of the Barristers Colleague of Holland and England Maxim Fershtman, Stiven Paules are participating in the last session dedicated to the main stages of the procedure of reviewing cases in EC.