"Yeni Siyaset" bloc defined more 10 candidates to participate in the parliamentary elections.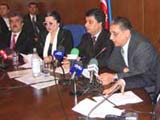 APA was informed by heads of election headquarters of the bloc Adnan Novruzov.
According to him, the bloc has defined 88 candidates so far and great majority of them has taken signature papers and are holding sign collection campaign. Majority of the united candidates defined last are members of National Independence Party. Members of NIPA Ali Alakbarov nominated his candidacy on the II Nizami constituency #25, Safir Rzayev on the II Kapaz #40, Muslum Maharramli on Goranboy-Agdam-Terter #97, Tofig Abbasov on Oghuz-Gabala constituency #117, Etibar Akbarov  on Samur-Shamkir constituency #102, Fikret Afandiyev nominated his candidacy on Davachi-Siyezen constituency  #54. Memebrs of SDPA Fikret Akhundlu nominated his candidacy on the III Surakhani constituency #32, Sahib Abbasov on Goychay-Agdash #89, members of National Movement Party Sabir Bakhtiyarov nominated his candidacy on Terter constituency #9 , chief editor of  newspaper "Reyting" Afig Mirzabayli on Shusha-Fuzuli-Khojavend-Khojali constituency.
/APA/