"Not only the party of Rasul Guliyev, but also all international organizations, Council of Europe, OSCE and USA State Department are engaged in his returning to Azerbaijan.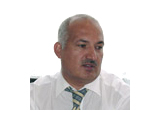 These structures adopted several resolutions up today for creating conditions for the political migrants to come back to Azerbaijan. That is why there is already no need to speak with conditions about Rasul Guliyev's returning to Baku this year or not".
This explanation was given by the first deputy of the DPA chairman Sardar Jalaloghlu when answering a question of APA "Which steps will you take in case if Rasul Guliyev can not return to Azerbaijan".
Jalaloghlu informed that they do not already intend to hold any talks with the administration of the country or appeal to the official organs for Rasul Guliyev's returning to the country.
"We required the authority many times to create conditions for the political organs to come back to Azerbaijan. But this was paid no heed. That is why we do not intend to take such steps any more. If the authority intends to hold democratic elections in the country, then it will eliminate these limitations. If the authority does not understand this, then it will have to eliminate artificial obstacles on political migrants' returning to Azerbaijan under the pressure of the international organizations".
S.Jalaloghlu said that R.Guliyev will come to Baku and take part in the election propaganda in the parliamentary elections to be held this year.