"The Gars-Akhalkalaki-Tbilisi-Baku railway project has strategic significance for the Southern Caucasus and will stimulate the economic development of this region".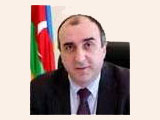 This declaration was made by the foreign affairs minister Elmar Mammadyarov before representatives of business circles in the Azerbaijan Trade and Culture Center in Washington.
APA was informed about it from the Press Center of the Foreign Affairs Ministry.
The FAM head stressed that Europe will be directly joined Central Asia by means of this project. The minister touched upon the global energy projects in his speech and valued these projects as guarantee of the economic prosperity of the region.
He informed that talks held by him are very important for Azerbaijan and also noted that he discussed questions of mutual interests including joint cooperation in the frame of the anti-terror coalition, joint efforts in the direction of solving the Armenia-Azerbaijan conflict peacefully sooner, economic relations, questions of the development of the democracy in Azerbaijan with the state secretary Condoleeze Rice and other members of the USA government.
The minister called the parliamentary elections an important step for the future of our country and said that the democracy is the process which develops gradually: "Our supporters consider that Azerbaijan which gained its independence recently did estimable work in this field. USA encourages us for the development of the democracy more and more during every our discussion with Washington".
We should note that Elmar Mammadyarov met with the deputy of the counselor on national security of George Bush Jack Crouch yesterday in the frame of this business visit to Washington. Jack Crouch expressed his gratitude to the government of Azerbaijan for its support to USA in global struggle against terrorism. He valued positively the existing level of the USA-Azerbaijan relations and said that there is great potential for the future development of the mutual relations. An exchange of views on the questions of mutual interest was held in the meeting.
Elmar Mammadyarov made a speech in the Round Table yesterday where the representatives from such non-governmental organizations as National Democracy Institute, International Republicans Institute, International Foundation on Election Systems (IFES) and from the State Department and National Security Council participated.
The minister informed the participants about the situation in Azerbaijan on the eve of the parliamentary elections in the Round Table held in the interrogational format. Technical sides of the election process, pre-election campaign of the candidates, observation of the election process and other questions were reviewed during the conversation lasted one hour.