"There were enough pretenders for being candidates from the "Azadlig" bloc on the election constituencies organized in Baku.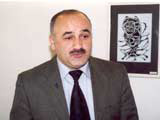 That is why it was impossible to reach an agreement among them. Casting lots was held among the pretenders in connection with the constituencies of Baku and most of those places fell to lot of the pretenders not from out party. As a result Ibrahim Ibrahimli and Rasim Musabeyov were left aside the list of common candidates of the bloc".
This explanation was given to APA by the deputy of the Musavat head Arif Hajili (photo).
According to his words, some shortcomings in parallel with advantages of participation in the elections with blocs occurred and as a result some persons from the administration of the party were left aside the list of common candidates.
A.Hajili noted that this problem remains at present and informed that they will try to solve the problem. "We will try to solve this problem so that no one will be displeasured in the result".
As to I.Ibrahimli's and R.Musabeyov's independently joining the elections and taking signature cards, A.Hajili informed that he can not say anything exact in connection with the decision to be adopted in this direction.
"It is hard for me to answer this question. It is true that the bloc decided if anyone puts his candidacy forward outside the list of common candidates, that person will be removed from the party he is the member of. But the question on the mentioned persons will depend on the discussions held in the bloc. In any case, we do not want those persons to leave the Musavat Party. Personally I will never vote for removing Ibrahim Ibrahimli from the party".
The "Azadlig" bloc made a decision to hold primary elections on 6 election constituencies for determining a single candidate. A meeting of the primary election commission formed for holding primary elections was held yesterday.
According to the information given to APA from the press-service of PFPA(r), the regulations of the commission was prepared and adopted in the meeting. According to the regulations, any party included in the bloc will be represented with 3 representatives in the commission. It was decided in the meeting to elect the chairman, secretary and vice-chairman of the commission by casting lots. According to the results of casting lots, the chairman of the primary election commission will be the representative from PFPA(r), vice-chairman from Musavat and secretary from DPA.
Conditions will be created for local and international non-governmental organizations, mass media organs and other structures to free observing the voting process. Holding the primary elections is appointed on August 12.