President Ilham Aliyev yesterday received deputy chairman of Turkish Armed Staff, General Ilker Bashbugh.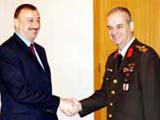 APA was informed by President's Press Service.
Ilham Aliyev said of the relations between Azerbaijan and Turkey to develop in all spheres rapidly. Reminding his recent meting with Turkish Prime Minister Rejeb Tayyib Erdoghan in Warsaw, President called this as indication of strengthening of friendly and fraternal relations between our countries. Emphasizing about cooperation between Azerbaijan and Turkey in all spheres, he expressed his gratitude to Turkish government for all assistances.
I.Aliyev stated that, the two countries established good relation in military sphere and that cooperation is on now. Expressing his satisfaction of his first visit, I.Bashbugh conveyed the best regards of Turkish President and chairman of Turkish Armed Staff, General Hilmi Ozkuk to the President.