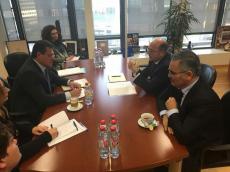 Trend:
The Southern Gas Corridor project plays an important role in ensuring the energy security of Europe, Maros Shefovic, Vice President of the European Commission on Energy Union Affairs said at a meeting with Energy Minister Parviz Shahbazov on a visit to Belgium, The Energy Ministry of Azerbaijan told Trend on Nov. 17.
According to the report, the meeting noted the high level of cooperation between Azerbaijan and the EU in various fields, including in the energy sector. Parviz Shahbazov spoke about the contribution made by long-term cooperation with the structures of the European Union in the energy sector in the process of modernization of the energy infrastructure of Azerbaijan, the improvement of legislation in this area. Having informed about the progress of the work on the Southern Gas Corridor project, the Minister expressed the hope that the work on the Trans-Adriatic Gas Pipeline (TAP) will be completed on time.
Noting, in turn, that the project "Southern Gas Corridor" plays a big role in ensuring the energy security of Europe, Maros Shefovich said that the European Commission will continue to support this project.
The meeting also discussed preparations for the next ministerial meeting within the framework of the Consultative Council of the Southern Gas Corridor, part of the new Agreement on Strategic Partnership between the European Union and Azerbaijan concerning energy cooperation, the issues of Azerbaijan's cooperation with the European Commission and the European Union within the EU4Energy program.