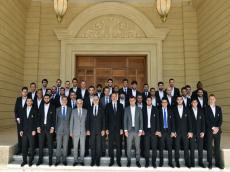 By Azernews
By Sara Israfilbayova
Azerbaijan's President Ilham Aliyev received the squad of Qarabag FC in Baku on August 24, as the FC for the first time in the Azerbaijani football history reached the UEFA Champions League.  
FC Qarabag defeated Danish Kobenhavn on away goals to become the first team from the 'Land of Fire' to pick up the historic victory.
President Aliyev, congratulating Qarabag FC on the historic achievement, said a new page was opened in the history of the country's football yesterday.
"I wholeheartedly congratulate all of you on the occasion of this historic victory. You gave the Azerbaijani people the joy of victory. In a tense struggle, you once again demonstrated that the Azerbaijani sportsman, the Azerbaijani citizen is attached to his people and the state, and is strong, professional and worthily represents our country on the international arena," the head of state said.
President Aliyev further stressed that this historic victory is also very important as the victory was won by the dear and beloved "Qarabag" team.
"Qarabag FC is named after Karabakh, the team represents the city of Agdam that is under occupation, so your victory is very important ... It's not just a sport victory, it's the victory of our state," he said.
"The victory of Azerbaijani youth, patriotic people. We are gaining victories on the battlefields, and in the sports arenas. In the same way, in April of last year, the heroic Azerbaijani servicemen, having shown heroism and courage, liberated a part of our lands from the Armenian occupation. The citizens of Azerbaijan have returned to the lands liberated from the occupation, now they live there, they are building and creating, now the flag of Azerbaijan waves on these lands and you raised the flag of Azerbaijan in football yesterday. I am sure that every patriotic citizen of Azerbaijan and millions of Azerbaijanis residing abroad, sincerely rejoiced at your victory, were proud of the fact that the Azerbaijani team, in particular the team bearing the name of Karabakh, today ranked among the strongest teams in the world and Europe," said President Aliyev.
The head of state further emphasized that this victory is also proof of the development of football in Azerbaijan.
"I am very happy that football, which is the most popular sport in the world, is developing in Azerbaijan, we have been waiting for this development for a long time, and we were looking forward to the victories of our football players, and I believe that we are witnessing this today. Our national team and national clubs show good results, worthy game, perseverance, will, patriotism," President Aliyev said.
President Aliyev on the same day signed an order allocating 2 million manats to FC Qarabag.