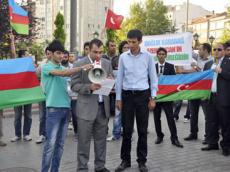 A protest action was held in the city of Eskishehir, Turkey, condemning the so-called "presidential elections on the occupied territory of Nagorno Karabakh region of Azerbaijan. The action was initiated by Azerbaijan Circle and joined by representatives of Turkish associations, residents of city and Azerbaijanis living here.
In an official statement on Wednesday, the Turkish Foreign Ministry maintained that such elections would be a clear violation of UN Security Council resolutions and OSCE principles, asserting that these are "just another new example of efforts to unilaterally legitimize the status quo going against international law" in the disputed region.
Head of the Eskishehir Azerbaijan Circle Cavid Aydin read out the statement condemning the false "elections".
Action participants held banners reflecting the massacres the Armenians committed in Nagorno Karabakh, the Khojaly genocide and demanded implementation of UN Security Council's resolutions, liberation of the occupied Azerbaijani lands.
/
AzerTAc
/