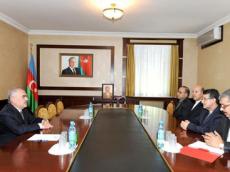 Chairman of the Supreme Majlis of Nakhchivan Autonomous Republic Vasif Talibov has met with Iranian ambassador Mahammad Bagir Bahrami. Mr. Talibov congratulated the Iranian Ambassador on successful completion of his diplomatic mission.
The Chairman hailed the efforts of Mahammad Bagir Bahrami on development of the relations between the two countries.
Stressing the activity of the Consulate General of Iran in Nakhchivan on strengthening of Nakhchivan Autonomous Republic`s cooperation with Iranian neighbouring provinces, Vasif Talibov said that increasing of the bilateral relations would serve to welfare of the two countries` nation.
The Chairman recalled Azerbaijan`s national leader Heydar Aliyev`s saying "Iran, is our brotherly and friendly country" and expressed confidence that the relations of both countries would further develop.
Mahammad Bagir Bahrami, in turn, stressed satisfaction on relations between the two countries and noted that he would spare no efforts on further development of bilateral ties. Consul General of Iran in Nakhchivan Mohammad Taghi Mohammad Ali also attended the meeting.
/
AzerTAc
/