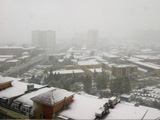 Here we go, finally Baku started getting some snow this Monday morning. National Hydrometeorology Department of Ecology and Natural Resources warned the citizens of the capital that cold weather is to be expected, and it turns out they were right.
Tomorrow (November 8th) rain is expected on Absheron, as well as clouds. On 9th of November the weather is expected to be cloundy, with some rain, and south-east wind.
Temperature will be around 2-3 C during the night, and about 5-7 C during the day. And below are some photos shot today morning in the center of Baku.
/Today.Az/