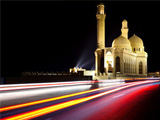 Tourists and traveliing photographers visit Azerbaijani capital quite often. One of such was ukrainian blogger Alexander Cheban,who made some jaw-dropping photos of Baku, and posted them on his blog.
This particular post is devoted to the "Baku at night" photo gallery.
Cheban himself wrote: "Baku becomes even more beautiful at night. Azerbaijani capital turned out to be the most vivid an stylish cities I've ever been in."
Even if his words are not entirely accurate, he's very close to the truth. Take a look at the pictures below.
/Day.Az/