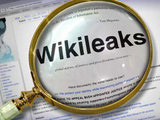 WikiLeaks - the international organization that publishes leaked documents classified by governments and corporations, has portion of its servers located in a data center in an underground nuclear bunker in Sweden.
The facility, located in Stockholm and operated by the Swedish Internet and data center service provider Banhof, is a converted Cold War-era bunker, complete with generators designed to provide back-up power to German submarines. The news of WikiLeaks is taking space at the facility called Pionen.
The Pionen data center is below about 100ft of bedrock in central Stockhom, according to Royal Pingdom. The 12,000 sq ft bunker was built to withstand a nearby hydrogen-bomb explosion. Take a look at the pictures below.
/Milli.az/
Click to enlarge: