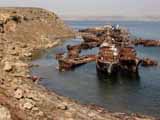 Nargin (Boyuk Zirya) is the largest island within the Baku Bay. It is uninhabited, the lighthouse was erected in 1814. The island is covered with remains of buildings, more than 20 ships rust on its north coast. The island served as a prisoner of war camp during both world wars, and it also had a small Soviet naval station. Nearly all these buildings have been demolished. Located near the center of the narrowisland. Accessible only by boat.
Now the interesting thing is that a new project is being developed for the island, to turn it into a true tourist resort. We even have the video. Check it out below, as well as pictures of the island, and the project pictures as well.
Click photos to enlarge:
/Expat Monkey/
Danish architects Bjarke Ingels Group have designed the masterplan for a carbon-neutral resort and residential development on Zira Island in the Caspian Sea.



"7 Hills" project video: