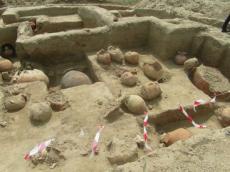 The ancient history of Azerbaijan is studied, mostly based on archaeological excavations.
From this point of view the archaeological excavations conducted by the specialists of the  Institute of Archaeology and Ethnography of the National Academy of Sciences of Azerbaijan in Salyan region are very important.
In the course of excavations conducted at the quarry Babazanly between Shorkend and Chukhanly villages, an ancient cemetery was accidentally discovered. After that it was decided to conduct large-scale archaeological excavations here.
During the excavation, archaeologists seized an important part of pitcher burials, which were subjected to the study. Cranial bones found here were also studied. 






/AzerTAc/