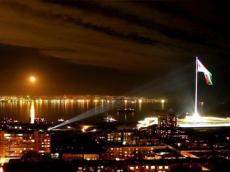 What's going on in Baku? Let see this in photos, one day of life in Baku, one day of spring in Baku prior to the great Eurovision show …
Baku is the city of love, adventure, action, joy, passion, and of course, winds. Baku is just the right place to fall in love

Icheri Sheher, being a UNESCO World Heritage Site, has been the inspiration to many poems and songs. Enjoy quiet Baku right in the city centre, surrounded by the Old City walls.
"Swan Lake" at the Opera and Ballet Theatre is a must-see show with marvellous orchestra, sentimental act, breathtaking performance and beautiful plot.
Get fascinated by the Baku view from the Eleven Lounge...
Children welcomed everyone to their magical world full of joy, excitement, music and fun. "Our Small World" concert at the Heydar Aiyev Palace took the audience to the fairytale world.
Yeap! The construction of the Eurovision 2012 home – Crystal Hall has been completed successfully.
Baku night is fascinating with the Caspian Sea whispering love songs on the coast. Baku never sleeps…
Break-dancers competed at the national qualifications for the Red Bull BC One Cypher Azerbaijan. Break-dancing is loved among teenagers and street break-dance shows are widespread in Baku.
Smile is awesome! Smile, what is the use of crying?!
/
eurovision.az
/