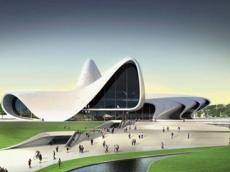 A major new venue and landmark structure, the Haydar Aliyev Cultural Centre will play a pivotal role in the redevelopment of Baku: defining a new neighborhood designated for residential, offices, hotel and commercial centre; facing out onto a new outdoor piazza.
The Heydar Aliyev Center, which is now under construction and is designed to host various international events, conferences, competitions, festivals, exhibitions, concerts and banquets, is a project of famous architecture Zaha Hadid.
This most fluid of buildings emerges through the folding of the surrounding landscape's natural topography which extends to 'wrap' the different functions housed within – each one represented by the folds in the centre's continuous surface. This fluidity connects diverse cultural spaces while also providing each with its own identity and privacy, the official website of the famous architecture reports.
The museum faces out into the landscape – participating in the urban fabric of the city developing around the site, its glass façade subtly interrupted by the sculptural interplay between outer skin and ground. Natural light 'floods' the interior via a glass façade.
The library faces north, effectively controlling admitted light, while reading and archive floors are stacked and wrapped within the folds of the outer envelope. The floors fall to each other with ramps connecting them, allowing continuous circulation. Library and museum are further connected by a ramp that leads through the ground floor of the Library to the first floor of the Museum, while a bridge 'flies' across the library foyer connecting to the conference centre.
The conference centre accommodates three auditoriums of different sizes, all with direct access to the external plaza through a main entrance located within the void created by 'stretching' the volume's outer skin.
Surrounding landscape rises to merge with the building, forming radiated earth mounds, while the building itself blends with its surrounds to form the new plaza – a forum for public engagement.
The photos taken by Ukrainian blogger Alexander Cheban (alexcheban) reflect the construction process of this grand culture center in Baku.
/alexcheban.livejournal.com/