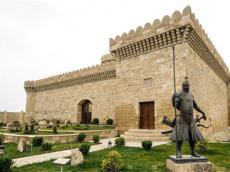 Azerbaijan, one of the most ancient habitations, is rich with archeological sites and tangible-cultural monuments. Absheron Peninsula is of special importance for historical monuments, and the Archeological-Ethnographic Museum Complex opened in Gala settlement near Baku in 2008 is one of the important historical sites.  
The project implemented at the initiative of the President of the Heydar Aliyev Foundation is designed to preserve historic past of Azerbaijan and turn the country to one of the world's most attractive tourism centers. The complex was mounted in the area of the Gala History-Ethnography State Preserve created here as early as 1988.
Covering an area of 156 hectares, the preserve contains burial mounds, crypts, dwelling houses as well as 4 storage pools, ruins of an ancient palace, 5 mosques and 3 bath-houses dating back to a period between 3rd millennium BC and 20th century. To safeguard these monuments, enrich the preserve with archeological findings discovered in Absheron the first outdoor archeological-ethnographic museum complex was created here in 2008. The museum complex itself is 2 hectares in area and stores rock paintings, weapons, ceramics, jewelry and other unique exhibits dating back to a period from 3rd and 2nd millennium BC to the Middle Ages.  
There are 215 architectural and archeological monuments in Gala settlement which is in the northeast of Absheron and adjoining territory. Study of monuments started in the 60s last century. Images on rocks are quite interesting in themes such hunting, sacrificing a human being, marriage, astronomic symbols, geometrical figures. Anthropomorphous statues in Dubandi, Turkan barrows are identified some experts with God of Death. These barrows are rich sources to study burial monuments and tangible and intangible culture of ancient Azerbaijan tribes.