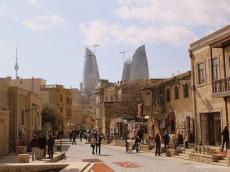 One Day of Life invokes every emotion of the human heart and soul. Let see this day in photos, one day of life in Baku, one day of spring in Baku …
Spring is the season of love, and many couples tend to get married in March in Azerbaijan. Spring in Baku is the best time to light your fire of love!
Seagulls on the boulevard side of Caspian now. Positive spring mood is in Baku with sun smiling, the wind caressing and birds singing.
One of the restaurants in Baku that embodies the unique and splendour design of the modern architecture.
The Flame Towers – the highest building to-e in Azerbaijan covered by thick fog. Flame Towers are expected to be opened soon and will consist of a shopping mall, hotel, offices, restaurants and residential area
Spring is in the air in Novkhani - on the coast of Caspian… The most beautiful sunset… In the mood for love…
On the eve of March 8 International Women`s day, girls had a chance to get an autograph and participate in individual photo session with the 2011 Eurovision Song Contest winner Nikki Jamal.
The exhibition of 15 young talented Azerbaijani painters took place at art gallery Art Villa. Classical paintings, drawings and sculptures by the young painters were demonstrated at the exhibition.
Azerbaijan marked Wind Tuesday, the thirdTuesday before the Novruz holiday of spring.
"One Thousand and One Nights" ballet, by the famous Azerbaijani composer Fikrat Amirov, is a story of a king, who after losing his wife every night orders killing of one woman. Then he meets Shahrazad, who tells him stories for 1001 nights, every night pausing "at the most interesting part" of the story to continue the following day.
A great way of welcoming spring is partying! That was the purpose of the Sweet Dreams party at Metkarting Club and Entertainment.

/
eurovision.az
/