A rare sketch of Adolf Hitler playing chess with Vladimir Lenin, the then Soviet leader, is expected to fetch thousands of pounds at auction.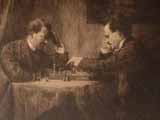 The incredible sketch, signed on the reverse by the two dictators, was drawn by Emma Lowenstramm, the Fuhrer's then Jewish art teacher in Vienna in 1909.
Mrs Lowenstramm witnessed the momentous game, played at a house belonging to a prominent Jewish family, at a time when Hitler was a jobbing artist in the city and Lenin was in exile.
The house was well known as a meeting place for budding politicians.
In the run-up to the Second World War the Jewish family fled and gave many of their possessions, including the etching and chess set, to their housekeeper.
Now the sketch, one of five ever made, is expected to fetch £40,000 at an auction in Ludlow, Shropshire, on Thursday after the housekeeper's great-great grandson put them up for auction.
The original chess board on which the two dictators played before they came to power, as well as the chess pieces they moved around the board are expected to be sold for an additional £80,000.
An additional 16 pictures drawn by Hitler and another 16 pencil etchings, including one of a woman said to be his mother, are also up for sale and are expected to fetch an additional total of £100,000.
The seller, who declined to be named, is confident the items are genuine after his father spent a lifetime attempting to prove their authenticity.
He compiled a 300-page forensic document that included tests on the paper, the signatures and research on those involved.
When the etching was made, Hitler was 20 and Lenin was twice his age and in exile.
The etching, titled "A Chess Game: Lenin with Hitler - Vienna 1909", is thought to be one of five and shows Hitler, playing with the white pieces, sitting by a window, with Lenin opposite him in half shadow.
It raises tantalising questions about what the two men who helped shape the world in the 20th century might have spoken of.
Lenin was already a highly influential Russian figure who in 1907 went into exile once more after the revolution was crushed by Tsarist authorities.
Richard Westwood-Brookes, the auctioneer, said: "This just sounds too good to be true, but the vendor's father spent a lifetime proving it.
"He compiled a 300 page document and spent a great deal of money engaging experts to examine the etching.
"The signatures in pencil on the reverse are said to have an 80 per cent chance of being genuine, and there is proof that Emma Lowenstramm did exist."
He added: "The circumstantial evidence is very good on top of the paper having been tested.
Historian Helen Rappaport, who has just written a book called "Conspirator: Lenin in Exile", said the etching was probably a "glorious piece of fantasy".
She said: "In 1909 Lenin was in France and there is no evidence that he was in Vienna.
"In October he went to Liege in Belgium and in November he went to Brussels. He would have visited Vienna before and after that year.
"He liked the place and went there because he travelled around Europe on trains, but he wouldn't have been there long enough to meet a young Hitler."
/Telegraph.co.uk/

Click to enlarge: