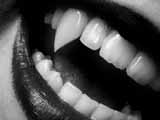 A British university is to hold a conference on Vampires in an effort to counterbalance the "Americanization" of the fictional genre.
Delegates to the University of Hertfordshire's "Open Graves, Open Minds: Vampires and the Undead in Modern Culture" conference to be held on April 16-17 will have their food served to them out of coffins as part of a mission to encourage students of all ages to study literature.
English lecturer Sam George, who has just launched a Master of Arts degree in vampire fiction at Hertfordshire, said the most famous vampire narrative of all, Dracula, was written by Irishman Bram Stoker and set in London and Whitby in Yorkshire, but that now with the "Twilight" saga and "True Blood," modern vampires have become Americanized.
"It's amazing how many British actors have played Dracula on screen," George said in a statement on the university's website. "I aim to put the British vampire back on the map."
George said she is particularly interested in the new teen vampire narratives which act as a useful metaphor for wider teen anxieties about their bodies and the first stirrings of desire.
"The new breed of vampires are far from monstrous, they are glamorous and sexy and have an emotional side," she said. "Their (teenagers') attraction to vampire figures provides a safe way for them to acknowledge these desires."
Conference lectures will be delivered by academics and author Marcus Sedgwick, who writes young adult fiction with a vampire twist.
Panel topics during the two-day event will include "Dracula Lives," "Appetites of the Undead," "Undead Victorians," "Undead Teens," "Politics of the Undead," "Undead Romance," "The Gay Undead," "Undead TV," "Undead in the New Media," "Identity, Legality and the Undead" and "Gendering the Undead."
/Reuters/