A man with only half a body has become the subject of a new documentary.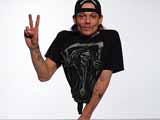 Kenny Easterday, 35, was born with a rare condition called sacral agenesis which prevented his spine from developing normally.
When he was six-months-old doctors amputated his legs and used part of his shinbone to complete his partially formed spine.
As a boy Kenny was offered prosthetic legs but he hated wearing them and preferred to use his hands or a skateboard to get around.
"My dad pretty much taught me how to walk on my hands," said Mr Easterday, from West Virginia, USA.
Speaking in a documentary for TLC in the USA titled The Man With Half a Body, his father said: "I just told him to walk behind his mother, because she walks like a duck so just walk like her,"
Most people with his condition die at a young age but he has defied doctors' predictions since he was a child.
"I should be dead now, the doctor gave me until I was 21. I'm 35 now," he said.
He is divorced from his first wife Sarah but is now engaged to Nicky, 33, who has two young children. Kenny has always hoped to be a father.
/Telegraph.co.uk/