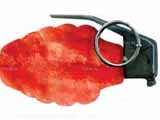 Have you ever bit into a jalapeno? I imagine your reaction might have been something like this: "AHHHH! THAT'S HOT!" That's because a jalapeno is a chili pepper, a spicy fruit that originated in America but is now grown worldwide, including in India, where defense officials are planning to soon unleash the first ever chili grenade.
Chili peppers are rated on the Scoville scale, which measures their hotness or piquancy. The jalapeno is rated between 2,500 and 8,000 units, which is why it's capable of easily stinging an unseasoned chili eater's mouth. On the other hand, India's bhut jolokia pepper—found primarily in India's northeastern states— is rated at a whopping 1,040,000 Scoville units, making it the spiciest chili on Earth. (Guinness World Records, 2007)
Bhut jolokia, also known as 'ghost chili,' is in fact so spicy that scientists in India have decided to use it to craft the first-ever, nontoxic chili pepper grenade.
R.B. Srivastava, the director of the Life Sciences Department at the New Delhi headquarters of the DRDO (Defense Research and Development Organization) explained the thought-process behind the invention to the Associated Press: "This is definitely going to be an effective non-toxic weapon because its pungent smell can choke terrorists and force them out of their hide-outs."
He added, "Its pungent smell will force the target victim to throw up and the eyes will burn like hell, but all without any long-term damage." The goal is to basically immobilize or stun an enemy without killing him or her.
Plus there is much potential for the chili-grenade technology to be used for other applications, or what Srivastava calls "women power." For instance, women could use chili powder "to keep away anti-socials." Or a chili aerospray might be developed as a tool for crowd-control. And don't forget chili paste, which "could also act as a major repellent against wild elephants."
Unfortunately, the technology has not yet been perfected. Although an initial chili grenade prototype has purportedly already been produced, it may yet be several years before 'chili technology' becomes commonplace in India.
/
Weird Asia News/

Click photos to enlarge: