Low-slung trousers give their wearers a bad image, according to a US state senator who is behind an advertising campaign telling people to "raise your pants".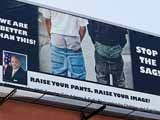 Eric Adams, a state senator from Brooklyn, is behind the $2,000 (£1,309) 'Stop The Sag' advertising campaign showing two men in jeans that hang low enough to display their underwear.
Mr Adams is calling for the end of the sagging trend that has become popular in men's fashion. In an online message posted on YouTube, he said: "You can raise your level of respect if you raise your pants", while pleading to young people not to "surrender control over your own image".
The politician, a retired police captain, is the latest to speak out on the trend. He follows Larry Platt, an American Idol performer who became an internet sensation earlier this year with his song "Pants on the Ground". Even Barack Obama has previously said: "Some people might not want to see your underwear. I'm one of them."
The campaign in New York follows a similar one in Dallas, where officials embarked on a 'Pull Your Pants Up' campaign in 2007, while in St Petersburg, Florida, a high school principal ordered thousands of plastic zip ties to help students pull up their trousers.
Mr Adams said he had had enough after watching a train passenger who wore a particularly low-slung pair of trousers.
"Everyone on the train was looking at him and shaking their heads," he said. "And no one said anything to correct it."
The low-slung trousers trend is adapted from the unbelted and sometimes oversized look of prison uniforms, according to Mark-Evan Blackman, who heads the menswear department at New York's Fashion Institute of Technology.
Initially seen as invoking street credibility, the style has spread from inner cities to suburban shopping centres and school classrooms.
/Telegraph.co.uk/