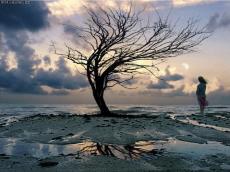 By Azernews
By Gunay Hasanova
Depression drains your energy, hope and drive. It's hard to get over depression quickly or easily, however it is not impossible at all. Frankly, overcoming depression or not is your own choice.
We definitely need to differentiate between depression and being unhappy. In most cases there is a reason for not being happy such as being rejected by the person you like or not getting the job you wanted. Depression is a pervasive feeling and it is a more developed form of being unhappy. You feel like you are in a black tunnel and there is no light at the end of it.
However, there are certain steps that may be useful for you if you feel depressed:
Understand your own state and search for a situation cause.
There can be lots of things that serve as a cause of depression, such as loss of a friend or loved one, a failed or unfulfilling romantic relationship, an unrewarding career, and financial reasons.
Spend more time with close friends.
A British study conducted an experiment with 86 depressed women. They were paired with a volunteer friend and 65 percent of the women felt well. In fact, social contact with good friends works as effectively as antidepressant medication and psychotherapy. A good friend may encourage you to make changes in your life, start doing something new, such as starting to exercise and so on.
Watch what you are eating
When you are depressed you need to look for mood-boosting food. In such cases you need to accept more caffeine. Regular, modest caffeine intake decreases the risk of depression by more than 50 percent, says Edward J. Cumella, Ph.D., a licensed psychologist and director of research and education for the Remuda Ranch Treatment Centers in Wickenburg, Arizona.
If you feel depressed, you need to eat more food with high serotonin. Walnuts, kiwi, bananas, tomatoes are high in serotonin.
Look in the mirror and force your lips into a smile
Dr. Cumella says that research actually shows that smiling makes you feel happy. Laugh helps stimulate production of the feel-good hormone serotonin. So, if you are feeling down, try to do something that may help you to laugh. Watching a funny movie maybe?
Change your bedroom
Usually depressed people also have insomnia. Psychologists believe that switching sleep location can help to overcome the depression. In addition, you can also reduce insomnia by getting up at the same time every day, never napping for more than 20 minutes and relaxing for an hour before bed.
Exercise
Numerous studies have proved that exercise increases both production and release of serotonin. While aerobic exercise is the most effective way to boost serotonin, calming exercises like yoga are also beneficial.
Forgive
Sometimes forgiveness is the best option. Many times we're making ourselves sad for no good reason at all. When you forgive, you remove this weight off your shoulders and put yourself in a position to be happier.
Notebook
Sometimes there are certain things that you cannot let them out. We simply cannot talk. In such cases the best option is to write about what's going on, and let your thoughts carry you through a solution. Remember, that many great books were written by people who were going through a hard time, a period of pain and suffering.