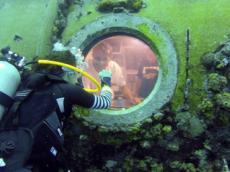 Could we one day live underwater? Ask Fabien Cousteau -- a month from now.
Cousteau, grandson of underwater explorer Jacques-Yves Cousteau, is spending the rest of June in Aquarius, the world's only underwater marine lab, 63 feet beneath the ocean's surface near Key Largo, Florida.
Cousteau and a small team of researchers -- they like the term "aquanauts" -- will spend the month living together in cramped quarters while studying how climate change and pollution affect ocean life. The monthlong operation is called Mission 31, named for the number of days they will live underwater.

/CNN/