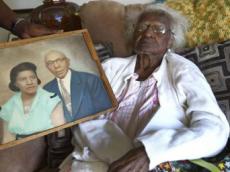 It was just a routine birthday for Jeralean Talley on Friday – a visit to the doctor in the morning, birthday cake in the afternoon for the Michigan resident.
Except that Talley, who turned 115 on Friday, is believed to be the oldest person in the United States and the second-oldest in the world, according to Gerontology Research Group, which validates ages of the world's longest-living people.
Talley, who lives in the Detroit suburb of Inkster, credits her faith for her longevity. "It's the Lord. Everything is in his hands," she said in an interview at the one-story brick home she shares with her daughter Thelma Holloway, 76.  
She now uses a walker, but Talley bowled until she was 104. She never smoked or drank alcohol and her only surgery was to have her tonsils removed, she said.
"I feel fine," Talley said.
Talley is not impressed by the attention from the public and news media she gets now on her birthday.
"I'm sick of it," Talley said.
Talley was born in Georgia on May 23, 1899, one of 12 children. She moved with her husband, Alfred Talley, to Michigan in 1935 for his job at a Ford plant. He died in 1988. She worked in a laundry washing and ironing, she said.
Talley planned to spend her birthday with her daughter and 14-month old great-great-grandson, Armmell Holloway. Her physical therapist was bringing over a birthday cake.
Worn framed black and white pictures of Martin Luther King, John F. Kennedy and Robert Kennedy hang on a wall in the home. Talley says she is a Democrat and voted for President Barack Obama.
The only person in the world confirmed to be older than Talley is Misao Okawa of Japan, who turned 116 in March, according to the Gerontology Research Group.
A birthday party is planned on Sunday for Talley at New Jerusalem Missionary Baptist Church in Inkster, where she is a long-time member with a reserved front row seat.
Talley said she has lived by the golden rule.
"Treat your neighbor as you want to be treated," she said. "I don't tell no lies on you and you don't tell no lies on me."

/Reuters/