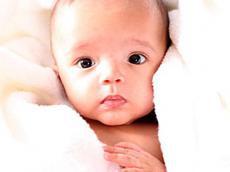 In 2013, for the first time since 1960, a new name unseated Michael or Jacob as the most popular for newborn boys. That's according to the Social Security Administration, which releases the list of most popular baby names each year.
The new king's name? Noah.
Sophia held the top spot for girls for the third year in a row, though Sofia with an "f" is crawling up the list: The latter reached its highest spot ever, at No. 13, the Social Security Administration said.
Parents submit their babies' names when applying for Social Security numbers when the children are born. The names tend to reflect pop culture's influence on trends. The fastest riser for girls in 2012 was Arya, the name of a beloved character in the "Game of Thrones" series on HBO.
In 2013, Jayceon and Daleyza made the biggest jumps in popularity in the top 1,000. Jayceon rose from 1,051 to 206 from 2012 to 2013, while Daleyza leaped from 3,715 to 585.
The fastest riser for boys, Jayceon, is the birth name of the rapper known as The Game. He has a reality series on VH1, "Marrying The Game," which follows his life as a rapper and father of three. The show premiered in late 2012 and started having an effect on naming trends last year, the agency said.
Daleyza's rise might have resulted from the influence of a popular Spanish-language reality TV series, "Larrymania," which airs on mun2, the agency said. Daleyza is the young daughter of Larry Hernandez, an American regional Mexican singer who's the star of the show.
Rounding out the Top 10 names for boys were Liam, Jacob, Mason, William, Ethan, Michael, Alexander, Jayden and Daniel. The other top names for girls were Emma, Olivia, Isabella, Ava, Mia, Emily, Abigail, Madison and Elizabeth.

/CNN/