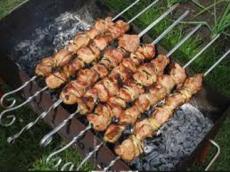 Every summer until late fall the, country air is scented with the mouthwatering aroma of shashlik. It sounds perfect -- and tasty -- but there is a problem, and it affects foods like shashlik that are grilled over an open flame. The culprit is the sugar that caramelizes when the food is grilled -- the same thing that gives it that great layer of crunchy flavor.
Anti-aging scientists have found that foods that contain sugar speed up the aging process. This is a result of glycation, a natural process where the sugar molecules in the cells stick to the protein fibers, forming harmful new molecules called advanced glycation end-products, or AGEs for short. These AGEs accumulate, causing inflammation and damage to nearly all the cells and molecules in the body. Eat too many AGEs, and skin loses its elasticity. It becomes more vulnerable to wrinkling, sagging, and UV damage.
No one is going to give up the fun of shashlik, so why not consider some healthy alternatives and add some new choices to the traditional menu? Salmon and baby spinach with just a touch of white wine will steam to perfection over a barbecue fire. Boneless, skinless chicken breasts slathered in a prepared or fresh pesto of basil or sundried tomatoes are delicious too when cooked in the French style of "en papillote".
Cooking the food in parchment-lined foil will keep it moist and tasty, and it will prevent the caramelization, or browning, that causes the damaging AGEs. These lighter dishes go well with the traditional platters of fresh tomatoes and cucumber usually served. Add some tasty yogurt and garlic dip, some fresh crusty bread, and you have a forest feast that will leave you looking ageless.
/thestyleglossy.com/