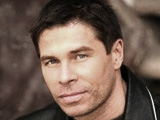 A bodybuilder born in Austria. We've heard something like that before. Oh yes, Arnold Schwarzenegger, thats the one. However, ever since Arnold went on to pursue political career, lots of new faces started to show up, and Roland Kickinger is definitely one of them. Born in Vienna, in 1968, Kickinger decided to become a bodybuilder at the age of 15. The result - he does have a "Mr. Austria" title among his other trophies.
However, Kickinger had more plans for himself, and his determination guided him to the right path. He came to the U.S. to pursue new opportunities. And new opportunities came in the form of movies (Lethal Weapon 4, Terminator Salvation, See Arnold Run), TV-series, Talk shows... In this interview, Kickinger talks about how he transformed into
Arnold Schwarzenegger
, his work in "Terminator Salvation", his lifestyle, and other things.
Mr. Kickinger, since your website pretty much has all your younger years "covered", I'll go straight to the film, that actually made you famous - "See Arnold Run". Now, since most see you as "another Arnold", please tell us, how did you get cast in the film, and what were your experiences like?
Any Warhol once said: Fame is nothing but at least it's something. For the film project "See Arnold Run" I went through the standard casting process for actors. There where 4 call backs and finally a screen testing. My experience of being a part of the film project and portraying my mentor's early life was exceptional and exciting. It was a great honor to portray such a icon and leader of California.
Your bio, does not say much about the bodybuilding competitions you've been participating in. Since you have such a tremendous body physique, please tell which contests you have participated in, and the titles you've won.
Mr. Miami Classic (1989), Newcomer Champion Austria (1992), Mr. Powerhouse (1994), Mr. Muscle Beach (Mr. Austria), (1994), Mr. Universe (1995), Arnold Classic (1996), San Jose Pro Invitational (1997), Night of the Champions (1997), Ironman (1998), San Francisco Pro Invitational (1998), Ironman (1999) and the Arnold Classic (1999).
Again, referring to your bio, it says you've been a trainer for other people as well. Have you ever thought of having some sort of your own "Training" system, maybe a TV-show. Does that somehow fit into the future of Roland Kickinger - the actor?
In my little spare time I successfully designed a total 2 week body makeover program which is held at my Woodland Hills fitness resort (www.kickingerfitnessvacation.com). Health and fitness has been a strong partner in my life and I like to promote a more fitter, healthier and happier lifestyle.  I am certainly open for a right fit T.V. station.
Career wise, how do you think your part in "Terminator Salvation" helped you? Did you have to undergo some special training to get "closer" to Arnold Schwarzenegger's 1984 Terminator look?
Portraying the "T-800" in the film "Terminator Salvation" has given me not only priceless personal experiences but also many other opportunities working in films globally. I have used my own training techniques and sport supplements to reach outstanding physical condition for the character necessary.
As an actor, pretty much everyone wants to develop. Do you take acting classes, or undertake some other trainings to improve your "spot" in the business? Some say, that you won't go far with muscles only...
Yes, I agree you have to work on you acting craft through out the whole year.  It's is just like exercising for your body, it has to be kept up.
Is there some other business you are involved in, or you can call yourself a full-time actor?
I am an entrepeneur by heart and one of my other passions besides acting and health and fitness are building up meaningful businesses and investing i.e. International Real-Estate Coproations, Managed Futures (Superfund), President of 6 Star Nutrition (Nutrition and Healthfood stores), Founder of Kickingerfitnessvacations.com and a several more...
Arnold Schwarzenegger's path is known: a bodybuilder turned actor turned politician. You were a bodybuilder, and now you're in the showbiz. What would your next step be?
I would love to maintain the above points and in addition making an impact to change other peoples life who have not been as fortunate as I am. I dare to live the life I have dreamed of.
T. Teymur
/Today.Az/
Click photos to enlarge:
More articles from this author:
Brent Huff: I was jumping out of helicopters, throwing grenades and shooting M-16's or M-60's - PHOTOS
EXCLUSIVE: Damian Chapa nearly dies while shooting "Brando Unathorized", reveals reasons
Ron Smoorenburg: All the films I did later, none was as hard to do as the one with Jackie Chan - PHOTOS
Martial Arts superstar Loren Avedon talks about Azerbaijan, Quentin Tarantino, shares memories - PHOTOS
Lost Today.Az interview with the "Best Karate fighter in the U.S." - PHOTOS
First of its kind: Azerbaijani "Street Fighters" film hits the internet - PHOTO - VIDEO
Story of a man behind the mask, or someone who made Arnold Schwarzenegger run for his life... - PHOTOS
Former kickboxing champion, Hollywood actor Gary Daniels: I learned a lot from working with Stallone
Legendary martial arts actor Matthias Hues: When you start off at a young age, it becomes your second nature
Mehriban Efendi: Sometimes its not so important to know what an artist created, feeling it just might be enough
Today.Az reports from the animal protection event held near Baku Zoo - PHOTOS
Eurovision-2010: the afterwords
INVISIBLE PEOPLE OF AZERBAIJAN - PHOTOS
Cult actor James Gaines speaks about his "Philippino action" days, shares memories - PHOTOS
Cult Hollywood actor Vernon Wells: Schwarzenegger loved pulling pranks, he was like a big kid! - PHOTOS
Cult Hollywood director shares his memories with Today.Az
Silent beauty of the Baku's Mime Theater – PHOTOS
Jesse V. Johnson: I use real soldiers, real criminals, and real strippers in my films
Canadian conflict expert Scott Taylor: US House Committee may have inadvertently set the stage for next chapter of bloodshed to begin
Azerbaijani "2010 Sony World Photography Awards" photographer speaks with Today.Az
Jalal Merhi: I met David Carradine a few months before his death
World famous artist considers Azerbaijan as part of his motherland - PHOTOS
Hollywood Legend: My fight with Clint Eastwood was the longest two-man fight scene on screen
Canadian war journalist Scott Taylor: Armenia can't move on forward with closed borders - PHOTOS
Jerry Trimble: It was a pleasure to fight Tom Cruise - PHOTOS
Tim Abell: Most heroes and villains share many of the same qualities on the screen
Damian Chapa: Everyone asks me why I did a movie about Roman Polanski
"Queen of martial arts movies" Cynthia Rothrock: I didn't like karate, it was hard for me - PHOTOS