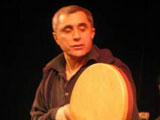 Azerbaijani Mugham performed by the renowned mugham vocalist Alim Gasimov was for the first time performed in Vatican.
The concert was organized at the University of St. Thomas under the support of the Azerbaijani Embassy to France and Vatican, the Azerbaijani Ministry of Culture and Tourism in conjunction with Vatican's Ministry of Culture, according to Elchin Amirbayov, Azerbaijani ambassador to France, accredited to the Holy Altar.
Azeri minister of culture and tourism Abulfaz Garayev and the minister of culture of Vatican archbishop of the Roman Catholic Church Gianfranco Ravasi attended the concert.
The concert attracted a large audience including foreign ambassadors, diplomats accredited in Italy and Vatican, representatives of the Azerbaijan Diaspora in Italy.
Alim Qasimov, (born in 1957), is an Azerbaijani musician and is one of the foremost mugham singers in Azerbaijan.
He was awarded the prestigious International IMC-UNESCO Music Prize in 1999, one of the highest international accolades for music. His music is characterized by his vocal improvisation and represents a move away from the traditional style of mugham.
According to international press, Alim Qasimov is simply one of the greatest singers alive, with a searing spontaneity that conjures passion and devotion, contemplation and incantation.
/AzerTac/