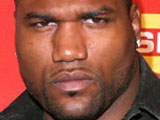 Former UFC champion Quinton 'Rampage' Jackson has apparently been involved in a two-car crash on the streets of Orange County, CA while driving his new Audi R8 home from the dealership.
According to TMZ, the A-Team star was hit by a woman driving a black vehicle. Both escaped injury in the confrontation, though Jackson caused damage to his car's back-end.
"I am thankful and happy no-one was hurt. I tried to make sure the elderly woman that hit my car was okay... she didn't speak much English, but I could see she wasn't hurt in any way," he said.
Jackson added of his own recovery: "I am fine, the little old lady is fine, but my car got hurt, and for that I'm sad."
/Digital Spy/