At just 23 years old, The Hills star Heidi Montag decided to go under the knife for a second time and have a staggering 10 plastic-surgery procedures in one day.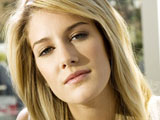 "For the past three years, I've thought about what to have done," the reality star tells PEOPLE.
"I'm beyond obsessed."
And so, on Nov. 20, Montag's total transformation began. Keeping even her family in the dark, the starlet chronicled every painful moment of recovery and her journey to become "the best me."
/People/