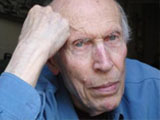 The French arthouse film-maker Eric Rohmer has died aged 89, according to his production house. Les Films du Losange said Rohmer, who was a key figure in the postwar French New Wave cinema movement, died in Paris earlier today.
The cause of death was not immediately known. Rohmer's best-known films included Tales of Four Seasons, My Night at Maud's and Claire's Knee. After the release of his last film, The Romance of Astrea and Celadon, at the Venice film festival in 2007, he said he was considering retirement.
Rohmer debuted in cinema in the early 1950s. In 2001, he was awarded a Golden Lion at the Venice film festival for his body of work.
/The Guardian/