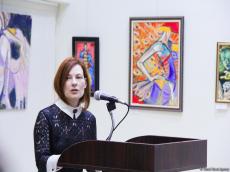 By Azernews
By Laman Ismayilova
Russian artist Natalia Shevchenko has presented her works in Baku.
The exhibition opened at the Azerbaijan State Academy of Arts on April 3, Trend Life reported.
The exhibition in Baku features portraits of Maya Plisetskaya, Yuri Grigorovich, Dmitry Hvorostovsky, Sergey Rakhmaninov, Sergey Dyagilev, Peter Tchaikovsky, Fyodor Shalyapin, Boris Eifman.
The exhibition is held with the support of the Russian Embassy in Azerbaijan.
Addressing the event, the rector of Azerbaijan State Academy of Arts, Omar Eldarov, and Vice-Rector Fuad Salayev stressed the uniqueness and the beauty of the portraits.
The secret of Shevchenko's creativity lies in the themes she chooses, the Russian ballet, defining her artistic tasks, as well as creating images of famous personalities.
Minister-Counsellor at the Embassy of the Russia in Azerbaijan Sergei Stepanov noted that the winner of international competitions Natalia Shevchenko is one of the brightest representatives of contemporary fine arts of Russia. Her paintings were acquired by 32 museums in Russia and abroad.
Sergei Stepanov stressed that exhibition in Baku contributes to the further development of cultural bridges between Azerbaijan and Russia.
In conclusion, Natalia Shevchenko expressed her gratitude for the warm welcome, noting the beauty of Baku and the hospitality of Azerbaijani people.
Natalia Shevchenko works under the creative pseudonym Natan.
She is the winner of the fourth and the fifth International Competition of Artists in Astana.
Natan's passion for music and ballet began in her childhood, when she attended the Mariinsky Theater, drawing inspiration from artists and retaining bright impressions and absolute love for the world of painting.
Therefore, the choice of the ballet theme in the artist's work is not accidental.
Natan's style expresses the influence of color and texture through movement in her compositional work with dance and music.
She describes this expanded style as "Moment Art", presenting to the viewer an instant impression of creative movement.
The artist brilliantly conveys complex plastic movements, improvising and using fragmentary compositions, angles in motion, achieving the effect of ballet dynamics.
The exhibition will last until April 24.