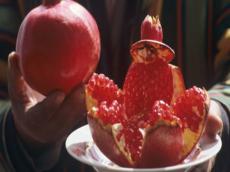 By Azernews
By Laman Ismayilova
A festival "Autumn Gifts of Azerbaijan" will be held in the very center of Moscow, on Tverskaya Square, on October 17-21.
Azerbaijan's rich history and culture will be presented to the residents of Moscow and guests of the city, Report.az informed.
As part of the festival, visitors will be able to purchase various gifts of nature from Azerbaijan, including persimmons, grapes, pomegranates, as well as dried fruits, nuts, juices, jam, dairy products, spices.
Along with this, the festival's participants will taste national sweets and enjoy this oriental tea drinking in a specially opened Tea House.
In addition, various dishes of traditional Azerbaijani cuisine from the best restaurants in Moscow will be presented.
Guests will also enjoy a wide selection of souvenirs, national decorations, textiles and tableware, as well as a rich cultural program - performances by the State Instrumental Ensemble and a group of professional dancers, the group of Enver Sadigov "Gaytagi" and finally a concert led by Shakhriyar Imanov.
In the pavilion "Crafts workshop", free workshops will be held on engraving copper dishes, weaving baskets of reeds and wicker, carpet weaving, painting armudi and making kelagai.
Moreover,  little guests will be offered to take part in colorful  performances.