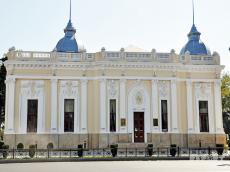 By Azernews
By Laman Ismayilova
Azerbaijan State Puppet Theater will take part in the international festival in Russia.
The theater will take part in the 9th International Puppet Theater Festival to be held in Moscow on October 5 -14.
More than 17 theatrical groups from seven countries will take part in the festival; round tables and master classes will be held as part of the event.
The staff led by theater director Rashad Ahmadzade, will perform the play "White and Black".
The play is about blind boy and his mother, who raised him away from people. Soon she became seriously ill and left this world. Before her death, she told her son "The world is cruel and ugly, in order to survive, you must find the light in your soul, see this world in your imagination."
Throughout his life, a lonely baby meets the wind, which becomes his friend and mentor, a stork, a butterfly, with whom he shares his sufferings and experiences. The young hero has a desire to know the society, where he faced with cruelty and indifference.
However, the ending is very sad - having seen the light of love for a while, with the rising of the sun, he again becomes blind. However, we all are born blind, and only true feelings open our eyes to the world around us...
Azerbaijan State Puppet Theater was created in 1931, though the theater building was constructed as early as in 1908. The theater was established by Mollaga Babirli and the first performance was staged in 1932.
The Theater was a participant of international puppet theater festivals (Tashkent, 1979, Bombay, 1980) and the South Caucasus (Yerevan, 1982, Tbilisi, 1984). The theater has been named after prominent Azerbaijani writer Abdulla Shaig since 1974.
At present, the Theater performs in Azerbaijani and Russian languages for children and adults alike. Plays of Azerbaijani, Russian and western European playwrights are staged in the theater.