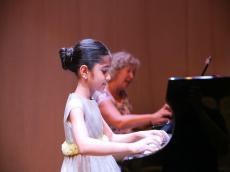 By Azernews
By Naila Huseynli
The project of children's music festival "Simurg" is being implemented with the support of the Baku Media Center.
The Media Center informs that the main purpose of the festival is to promote and support young Azerbaijani talented musicians, as well as to teach them professional knowledge and skills in performing arts.
The author and head of the project is a well-known pianist, laureate of prestigious international competitions Saida Tagizadeh.
In the future it is planned to cover all musical instruments of the festival. So far, only pianists between the ages of 7-18 participate in the project.
At the current stage of the festival, 10 participants were selected. Participants will participate in master classes of prominent educators from Azerbaijan, Russia and other countries within the framework of the project. In addition, the training will be held for young performers regarding the proper and professional behavior on the stage. The young talents have already participated in master classes of Mira Marchenko, the head of the special piano department of the Central Music School at Moscow Conservatory named after the P. Tchaikovsky, and fulfilled her assignments.
The solo concert of famous Russian pianist Daniil Sayamov will be held at the International Mugam Center within the framework of Simurg music festival on October 19. Master classes of other prominent educators and musicians will be organized gradually for participants of festival.
More information about the project is available on the official website of the festival www.simurqfestival.com, on Facebook, Instagram and Youtube social networks.