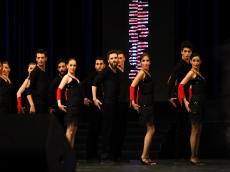 By Azernews
By Laman Ismayilova
"Broadway Stories" have been presented in Baku. The project was implemented by the Dance Association of Azerbaijan with the assistance of the Heydar Aliyev Palace and the US Embassy in Azerbaijan. 
The premiere was a full house and was met with applause from the audience. The guests saw the musical, which had never shown and staged in the original Broadway style.
An international team worked on the project, including specialists from the U.S. - director Paul Gordon Emerson, vocal director Amikaeyla Gaston, choreographers Philip Baroyoidan Andrew Freeman, visual and visual effects Dato Kipiani (Georgia).
Azerbaijani team consisted of Rumiya Agayeva, Veronika Talibova, Solmaz Askarova and Kamran Mammadov.
Forty two actors were involved in the play, seventy two images were presented to the audience, i.e. many actors played three roles. Among the actors were both beginners and professional dancers. The leading roles were performed by dancers Tahir Eynullayev and Narmin Mammadli. And another interesting fact. The performance lasted 1 hour and 22 minutes, and only 18 minutes - there were Broadway motifs. All the rest of the music was created by Azerbaijani composers Eldar Babayev, Alisa Akhmadova and Ulviya Kazimova.
"Four months of complicated training, up to six hours a day, nerves, tears, torn ligaments (and not only vocal), dozens of lost kilograms of weight (down to the fact that women's dresses were all over again), sleepless nights, everything that was experienced , found the response in the final presentation," said Azizov.
As a result of the premiere, a sufficient number of proposals from specialists and professionals of the "live" scene came to confidently say that the premiere was successful.
The organizers also thank Narmin Mammadli (author's poems and texts), Gulshen Safarova (costume designer), Rauf Musayev (engineer), the scenery of Margo and Andrew Freeman and the whole creative team - Rashid Aliyev, Eldar Babayev, Alisa Akhmadova, Natavan Guliyeva, Lyaman Ibrahimova, Ayten Orujaliyeva, Naila Gahramanova, Inara Tagizade and others, as well as command Jam Group - Sani Med, Tahir Dibirov, Natavan Zeynalova, Chinara Mikailzade, Rasul Hasanov, Rauf Musayev, as these names are inscribed his name in the history of musical culture of Azerbaijan.
Media partners of the event are Azernews.az,  Trend.az, Day.az, Milli.az.