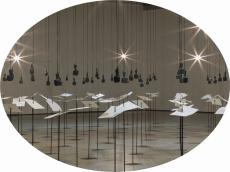 By Azernews
By Laman Ismayilova
YARAT Contemporary Art Space will present the new format for "YARAT Talks" series on September 13.
The project aims to create a platform that brings together different people regardless of age, profession and educational background. The meetings will focus on the development of speaking skills of pre determined foreign language.
Each event will be held jointly with different educational centers.
The first meeting of this series will be conducted in partnership with "Ders Evi" Education Center. Following the acquaintance with the exhibition of Shilpa Gupta titled "For in your tongue I can not fit" presented at YARAT Center, the participants will be examining the following topic "I am the spirit and the universe, I am the time and the world" in English. 
English level for participation: Intermediate
The event starts at 19:00. Admission is free.
YARAT is a not-for-profit organization dedicated to nurturing an understanding of contemporary art in Azerbaijan and to creating a platform for Azerbaijani art, both nationally and internationally. Based in Baku, YARAT (meaning CREATE in Azerbaijani) was founded by Aida Mahmudova in 2011.
It realizes its mission through an on-going program of exhibitions, education events and festivals. YARAT facilitates exchange between local and international artistic networks including foundations, galleries and museums.
YARAT comprises YARAT Art Centre, ARTIM Project Space, YARAT Studios, YAY Gallery and an extended educational and public programme.