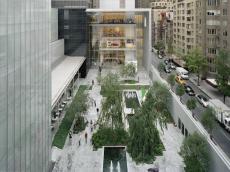 By Azernews
By Laman Ismayilova
The Ansonia Quartet, a string quartet based in New York City, has performed a music piece "Oasis" composed by prominent Azerbaijani composer Frangiz Alizade.
The performance was part of the International Music Festival "Summer Garden - New Music for New York", Trend Life reported.
The work was warmly received by listeners and caused a storm of applause.
The quartet has included "Oasis" in its permanent repertoire and will perform it in a concert tour of the U.S. cities.
The concert also featured works by John Woolriks (the U.S.), Lei Liang (China) and Paul Dessen (Venezuela).
In the booklet, published for the festival, was presented extensive information about the life and work of Firangiz Alizade and her work "Oasis".
Firangiz Alizade is best known for her works which combine the musical tradition of the Azerbaijani mugham and 20th century Western composition techniques, especially those of Arnold Schonberg and Gara Garayev.
Her works have been performed at festivals in Stockholm, Warsaw, London, Heidelberg, Amsterdam, New York, Boston, Los Angeles, Mexico City, Frankfurt, Berlin, Zurich, Bonn and Cologne.
Alizade also enjoys long productive cooperation with Kronos, which has presented her works, including Mugamsayagy, Absheron, and Oasis since 1993.
In 2016, "Dance", an academic work by prominent Azerbaijani composer Firangiz Alizade, was performed in the framework of tour, organized by the world-renowned Kronos Quartet.
In 2017, Azerbaijan's State Academic Opera and Ballet Theater  marked the 70th anniversary of prominent composer. Many art and public figures, as well as her admirers attended the event.
Azerbaijani composer Firangiz Alizade premiered her work in San Francisco this  January.
Inspired by painting of famous Azerbaijani landscape painter Sattar Bahlulzade, she wrote piano duet "Spring Morning in Baku".
The Museum of Modern Art established Summergarden in 1971.
Within the framework of the festival, an open air concerts of classical and jazz music are organized in the museum garden with beautiful sculptures.
The concerts are concert held under the motto "New Music of New York".
The festival attracts talented graduates of the world-famous music school "Julliard school" under the leadership of Joel Sachs, who participate in various instrumental ensembles. Graduates of this school, laureates of several international competitions Sumire Hirotsuru, Bungchan Li (violinists), Yoselin Pan (viola), Isabelle Kvondan (cello) joined the quartet, which was called "Ansonia". This quartet includes in its repertoire the most famous examples of modern music. The musicians  won the love and recognition of a large audience.