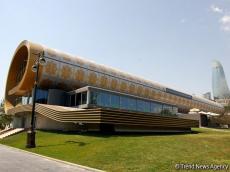 By Azernews
By Laman Ismayilova
Azerbaijan Carpet Museum received the "Certificate of Excellence" of one of the most popular travel planning and review website TripAdvisor.
The museum was awarded "For the Consistent Achievement of High Ratings from Travelers". 
Since 2011, the Certificate of Excellence honors hospitality businesses that deliver consistently great service across the world. This designation is presented to approximately 10 percent of total businesses on TripAdvisor that have consistently achieved great reviews over the past year. 
In 2017, the Azerbaijan Carpet Museum also received such a certificate.
Over the past two years, the museum has won "The Best Experience Award" in the field of intangible cultural heritage database by the International Committee for Documentation (CIDOC) and a certificate for innovation in working with the public in the museum field at the contest "The Best Museum of Europe - 2018".
Within the past eight months, the number of visitors to the museum has already exceeded 63,000 people.
The Azerbaijan Carpet Museum was created in 1967. From 1967 to 1993, the museum was called the Azerbaijan State Museum of Carpet and Folk Applied Arts, from 1993 to 2014 - State Museum of Carpet and Applied Arts named after Latif Karimov, from 2014 to the present time the Azerbaijan Carpet Museum. 
The first exposition was presented on April 26, 1972 in the building of the Juma Mosque, an architectural monument of the 19th century, located in the Icherisheher – Old City.
The museum has become a research-training and cultural-educational center where many events, such as exhibitions, international symposiums, and conferences, are held. During its 50 years of existence, the museum has organized more than 30 exhibitions in different countries throughout the world. 
In 2004, a law on the Preservation and Development of Azerbaijan Carpet was enacted with the museum's participation. The law aimed to implement the registration of Azerbaijan carpets, protect and support their development, and coordinate scientific and methodical training.
In 2010, the Azerbaijan Carpet Weaving Art was included in UNESCO's Representative List of the Intangible Cultural Heritage of Humanity.