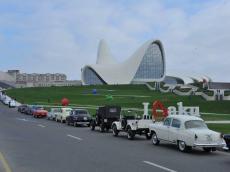 By Azernews
By Naila Huseynli
The annual exhibition of classic car will be organized by the Automobile Federation of Azerbaijan on 26 August.
The federation invite to participate the owners and the lovers of classic car in the event, stated the federation on Monday.
Owners of classic cars produced before 1980 can register until 18:00 on August 22. Persons wishing to register a car to participate in the race and exhibition can apply through the Federation's telephone (012) 505 60 03 or (050) 295 01 00, to the e-mail office@faa.az
The cars that were registered and their owners should be in front of the Heydar Aliyev Center on August 26 at 15:30.
Last year, the exhibition of classic cars featured more than one hundred and fifty classic cars produced before 1980. 
Legends of the world car industry, including Mercedes, Rolls-Royce, Mustang, Chrysler, and Pobeda, Zaporozhets, Moskvitch, GAZ, ZIL, ZIMA, were attended to the parade and created atmosphere of retro films.
The oldest vehicle of the parade was "Opel Olympia" of 1936. Its owner Azad Karimov turned out to be a real collector of classic cars and took part in the parade with Volkswagen Beetle of the 1966 and the 1971 release.
The event was followed by entertainment programs for various age groups organized in the Park of the Heydar Aliyev Center.