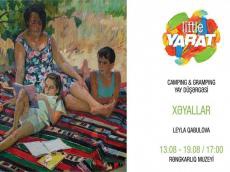 By Azernews
By Laman Ismayilova
YARAT Contemporary Art Space invites children to join Camping and Gramping Camp with their grandparents.
The event will take place at the Museum of Azerbaijani Painting of the 10th-11th Centuries on August 13-19.
The programme is dedicated to the exhibition "Labour, leisure and dreams:1960s-1980s through the eyes of Azerbaijani masters".
This exhibition brought together works by leading Azerbaijani painters painters Mikayil Abdullayev, Rasim Babayev, Sattar Bahlulzade, Gennady Brijatyuk, Nadir Abdurahmanov, Kamal Ahmed, Ujal Hagverdiyev, Igor Zhuk, Javad Mirjavadov, Boyukagha Mirzazade, Ashraf Murad, Toghrul Narimanbekov, Nadir Gasimov, Eldar Gurban, Maral Rahmanzade, Altay Sadigzade, Ogtay Sadigzade, Tahir Salahov, Khalida Safarova, Mahmud Taghiyev, Taghi Taghiyev, Farhad Khalilov, Gayyur Yunus who together defined a key period in Azeri Soviet art.
The theme of following master classes is "Dreams". Master classes will be conducted by talented puppet-artist Leyla Gabulova.
The works of event participants will be showcased at exhibition.
YARAT is an artist-founded, not-for-profit art organisation based in Baku, Azerbaijan, established by Aida Mahmudova in 2011. YARAT (which means 'create' in Azerbaijani) is dedicated to contemporary art with a long-term commitment to creating a hub for artistic practice, research, thinking and education in the Caucasus, Central Asia and surrounding region.
It comprises YARAT Art Centre, ARTIM Project Space, YARAT Studios, YAY Gallery and an extended educational and public programme. YARAT Art Centre, a 2000m² converted Soviet-era naval building, opened in March 2015 and is the organisation's main exhibition space.
The exhibition programme features new commissions by artists responding to the region. It supports and provides access to artists from the region, while engaging and introducing established, international artists.
In October 2015, YARAT opened ARTIM, a central, accessible and dynamic space in Baku's Old City. ARTIM (meaning 'progress' in Azerbaijani) shows experimental practices and new work by emerging Azeri art professionals (selected through open call) and the international artists from the residency programme. It features multiple small-scale projects each year and hosts ARTIM LAB, a programme enabling young artists to engage in workshops and daily studio practice to generate new ideas and works.
In 2016 YARAT launched a renewed residency programme. Aimed at developing young Azerbaijani voices and emerging international artists, the focus is on new, innovative practices and artists with an interest in the region. The residency programme hosts 6 international and 4 local artists a year at YARAT Studios' spaces.
Education has been at the heart of YARAT's activities since its creation. With a dedicated public
programme that includes courses, workshops, lectures, screenings, festivals, literature and theatre clubs and family weekends, YARAT aims to give access to broad audiences of all ages. The public programme invests proactively in building communities and nurturing a wider understanding of, and participation in, contemporary art.
Located on the National Flag Square the Museum of the 10th-11th Century Azerbaijani Painting was
founded by the Heydar Aliyev Foundation. The Museum was inaugurated in June 2015 by the
President of Azerbaijan, Ilham Aliyev and the First Lady Mehriban Aliyeva.
It presents works by both prominent and lesser-known Azerbaijani painters from State Collections, such as the National Picture Gallery and the Museum of Modern Art. From 2018 onwards YARAT was commissioned to present a series of exhibitions with the works from the collection and to organize a public programme of events running throughout the year.