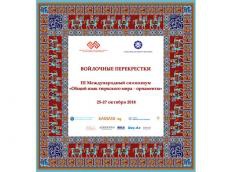 By Azernews
By Laman Ismayilova
The Ministry of Culture and Tourism and the Azerbaijan Carpet Museum will hold the 3rd International Symposium of Common Languages of Turkic World – Patterns under the topic Intersections in Felt on October 25-27.
The geography of the symposium participants covers America, Canada, Australia, countries of Europe and Asia.
The symposium's aim is the exchange of ideas on the common heritage of the Turkic peoples ? felt, as well as research and preservation of this craft's traditions and customs, the revival of interest in it, and its application in various fields.
Among them, the world-famous expert on felt art professor of the University of St. Andrews (Scotland) Stephanie Bann will present a report on the topic "Patterns under the topic Intersections in Felt".
She lectures on social anthropology and studies the felt arts of Central Asia and the weaving of Scotland. Having found the necessary exhibits, she arranged the first exhibition of felt art in Kyrgyzstan in the British Museum. Stephanie Bann is one of the authors of the journal NomadicFelt (British Museum Press) and is the editor of the Anthropology and Beauty publication of Routledge. She also runs the Woven Communities project.
Two thematic exhibitions, a workshop, a felt product fair, as well as a fashion show will be organized as part of the symposium.
The theme of the symposium is a felt craft in a wide historical range, from the pre-Islamic era to the present time. After the symposium, the speeches will be published in a book, distributed among libraries, and offered to the meeting participants. 
The symposium will discuss such topics as "Felt As a Tradition", "Felt in Contemporary Art", and "Felt As a Fashion Trend".
The speeches will be in Azerbaijani, English, Russian and Turkish languages.
 Azernews.az is a media partner of the event.