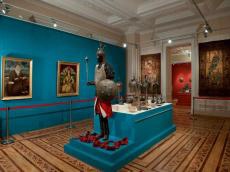 By Azernews
By Laman Ismayilova
Azerbaijan National Art Museum invites  Baku residents and city's guests  to get acquainted with unique works of art: symmetrical and non-symmetrical in composition, but very harmonious.
The exhibition will be organized within the framework of Open Doors day on December 17.
The term "symmetry" was first formulated by the philosophers of ancient Greece as proportionality, similarity, coherence of parts of an integral structure.
For the ancient Greeks, symmetry was an inseparable attribute of perfection: having lost symmetry, an object inevitably loses its beauty. It should be noted that beauty and perfection, like other aesthetic criteria, is not absolute.
The concept of symmetry goes through the whole centuries-old history of human creativity. Many people from ancient times had the notion of symmetry in the broad sense - as the equivalent of balance and harmony.
The administration of the Azerbaijan National Museum of Art expresses gratitude to the Wellness Center "Symmetry" for assistance in the promotion and preservation of cultural heritage.
The Azerbaijan National Art Museum is a treasure house that preserves  national moral values and cultural heritage. The museum holds more than 17,000 artistic exhibits, which have a rich history. The Art department was separated from the Azerbaijan State Museum in 1936 and organized as an independent museum by decision of the Council of People's Commissars. 
In 2006 thorough restoration work was carried out to the building and in 2009 a new exhibition was opened.
In 2011 the museum was declared to be of first National and then European Museum Standard (EUMS), meeting international standards and criteria, as appropriate for a museum and implying high quality museum services and professional experience.
This was by unanimous decision of the Council of Directors of the European Economic Chamber of Trade, Commerce and Industry – EEIG - located in Brussels.