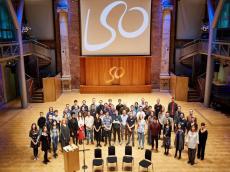 By  Trend
By Laman Ismayilova
A programme suite "Paradise Boards" by the young and talented Azerbaijani composer Arzu Abbasova has been performed by the London Symphony Orchestra as part of the Soundhub project. 
Soundhub is a composer-led resource, responding directly to the needs of those using it: a supportive framework for artists to try out new ideas, develop existing work and benefit from peer-to-peer networking and support.
The programme is open to UK-based composers and builds on the LSO's ongoing investment in emerging talent.
This year, the project includes 96 Associate composers. Arzu is one of them, Azertac reported.
She joined the project this year in August. Having finished the first grade of the Azerbaijani University ADA, she entered London's SOAS University.
Arzu, a graduate of the music school named after Sharoyev in Baku, has participated in various international music competitions. She has won a number of international competitions in Russia, the U.S., Kazakhstan. Moreover, Arzu won the "Young and promising composer" nomination in the 12th International competition "Donne In Musica" in Serbia.
Established in 1904, the London Symphony Orchestra (LSO) is the oldest symphony orchestra in London. The orchestra performs over 120 concerts a year.
LSO was one of the first orchestras to make gramophone records and film scores.