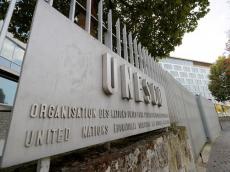 By Azernews
By Laman Ismayilova
The first round of elections for the UNESCO new Director-General, held in Paris, did not bring results.
None of the candidates received an absolute majority of votes necessary for the victory, Azertac reported.
The candidates included the Ambassador of Azerbaijan to the Russian Federation Polad Bulbuloglu, Head of Vietnam's National Commission for UNESCO, Suan Shon Pham, and Ex-minister for family and society of Egypt Mushira Khattab.
The next stage of voting will be held on October 10.
The name of the chairman leader will be announced before October 13 to be confirmed at the 33rd session of the Organization's General Conference.
The 39th session of the General Conference will be held on October 30-November 14 in Paris.
Polad Bulbuloglu is People's Artist of Azerbaijan and the country's Ambassador to Russia. He enjoys a long and distinguished record in the spheres of cultural management and international diplomacy, and a particular interest in resolving humanitarian issues. He is also a renowned musician on the world stage, who has performed in more than 70 countries spanning a career over five decades.
As Culture Minister of Azerbaijan (1988-2006) he successfully oversaw the creation and development of the country's independent cultural policy, and worked with such institutions as the Council of Europe's Department of Cultural Policy, the European Institute for Comparative Cultural Research, and UNESCO.
He, in the capacity of Ambassador to the Russian Federation since 2006, work extensively in the humanitarian sphere, encouraging international cooperation and dialogue between nations, and promoting multiculturalism, education and the arts as powerful tools for peace.