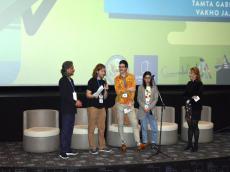 By Azernews
By Laman Ismayilova
The Fourth Azerbaijan Youth Film Festival organized with support of U.S. Embassy, "Desperado" music school and "Azerbaijan Alumni Association" was held at CinemaPlus Azerbaijan cinema theaters on October 1-3.
Being titled "Tell your story" this year's festival screened the films made by Azerbaijani, American and European filmmakers.
The first day of the festival was held in the cinema CinemaPlus G?nclik Mall with a buffet and live music of the group Ahmedowsky Trio.
The festival's director Mike Rayburn, representative of the U.S. Embassy Ferghani Aliyev, director Samir Kerimoglu and special guest Pablo Mohave,told about the festival, aimed at developing cinematography in the country, establishing bridges between the countries, exchanging experience with foreign specialists.
Mike Rayburn, festival's director said Azerbaijani young filmmakers are very talented and expressed the confidence that in the future they will succeed at international festivals along with American directors.
Filmmaker Pablo Mohave, participant of Cannes Film Festival said that current development of information technologies allows to make high quality film with mobile phone.
Afterwards, short films dedicated to refugees and IDPs were screened.
On the second day of the festival, about 40 short films of young directors and participants from Azerbaijan, as well as Georgian filmmakers were shown at the CinemaPlus Az?rbaycan Cinema.
Tamta Gabrichidze answered questions from the audience and shared his experience. Pablo Mohave made a presentation on the use of virtual reality in documentary films.
The films of the winners were demonstrated on the last day of the festival at the CinemaPlus G?nclik Mall. All participants of the festival were awarded certificates, and prize-winners received valuable gifts. Deputy Director General of the CinemaPlus Cinema Network and Cinemazadeh Director Jafar Akhundzadeh congratulated the participants of the festival and noted the importance of the project for the Azerbaijani youth.